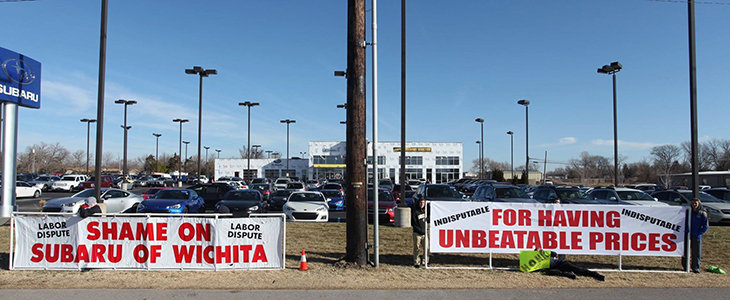 I saw this photograph and thought of the many articles, blogs, posts, discussions, books I read – along with all the conversations I hear from both teachers and students alike. Everyone is unfair – teachers, principals, guidance counselors, students, students' parents, friends, friends of friends, school, etc… The griping, moaning and complaining goes on and on, until something happens like what you see in this picture.
According to The Car Connection, "Subaru of Wichita recently launched a $1.5 million renovation of a former Suzuki outlet, converting it to a Subaru showroom. Subaru of Wichita hired a range of local contractors for the upgrade, including a firm called Hi-Tech Interiors, which carried out some drywall installation."
"The problem is, Hi-Tech Interiors is a non-union shop, a fact that didn't sit well with the United Brotherhood Of Carpenters And Joiners Of America Local 201. And so, the union took to the streets — or, more precisely, the right of way directly in front of the dealership. Members unfurled a large banner that reads, in big, red letters, "Shame on Subaru of Wichita".
"In return, the dealership's director of marketing, Aaron Wirtz, did what any bright, grammatically oriented person would do in that situation: he finished the sentence with a sign that reads, "for having unbeatable prices".
"Apart from the words "labor dispute" written in the corner of the union sign and fact that the fonts don't quite match, the two banners are nearly identical. Read as one, they are also hilarious — to anyone who has a beef with unions, that is: "Shame on Subaru of Wichita for having unbeatable prices".
This is such a simple solution, I am surprised we haven't seen it used before. (Can someone do something about the "giant rat" they use outside of non-union shops now as well?) If one guy with a sense of humor can take a very bleak message and turn it into a winning idea, then why can't use ingenuity fix some of our problems?
Thank you Mr. Wirtz, have you ever thought of going into education? Once we begin to simplify our problems and stop saying, "teaching is so complicated it will take years to correct," that is when we will begin to see light at the end of the rainbow.